Deck Building by The Home Improvement Service Company
Transform your outdoor space into a beautiful oasis with our expert deck building at The Home Improvement Service Company. As a trusted provider of deck-building solutions in Hillsboro, MO, and the surrounding areas, we are dedicated to creating the perfect outdoor retreat for you and your family.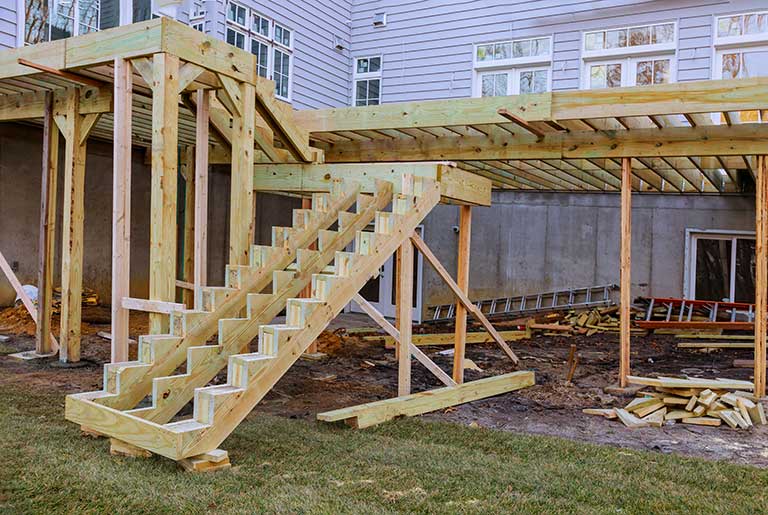 Our Services
Our deck building services include:
Custom Deck Design: We understand that every homeowner has unique preferences and requirements for their deck. Our experienced team will work closely with you to design a custom deck that perfectly suits your lifestyle, space, and budget. Whether you envision a spacious entertainment area or a cozy relaxation spot, we'll bring your vision to life.
Quality Deck Construction: Using high-quality materials and expert craftsmanship, we'll build a durable and long-lasting deck that withstands the elements. Our skilled professionals pay meticulous attention to detail at every step of the construction process, ensuring precise measurements, secure foundations, and sturdy framing for a structurally sound deck.
Deck Additions and Enhancements: If you already have a deck but want to make improvements or additions, we've got you covered. Whether it's expanding your current deck, adding built-in seating, or incorporating unique features like pergolas or lighting, we'll seamlessly integrate the new elements to enhance the functionality and aesthetics of your outdoor space.
Deck Repairs and Maintenance: Over time, decks may require repairs or maintenance to ensure their safety and longevity. Our team offers comprehensive deck repair and maintenance services, including replacing damaged boards, reinforcing structural elements, and applying protective coatings. We'll keep your deck in top condition, allowing you to enjoy it for years to come.
At The Home Improvement Service Company, we take pride in delivering exceptional results and outstanding customer satisfaction. With our expertise and dedication to quality, you can trust us to create a stunning and functional deck that complements your home.
Contact Us
For professional deck building in Hillsboro, MO, and the surrounding areas, contact The Home Improvement Service Company. Call us at (636) 948-4472 or email us at jimmie@thiscoroofs.com to schedule a consultation or request more information. Let us bring your outdoor dreams to life with our expert solutions.